General Church News
---
North American Division News
http://adventistchurchconnect.com/rssscript.php?level=division&orgid=AN1111
---
World Church News (click on underlined title)
Adventist News Network
The official news service of the Seventh-day Adventist world church.
The ranking comes after a decade of significant diversification.
Earlier this week, the 2018 U.S. News Best Colleges rankings were released, which included Andrews University as one of the country's most ethnically diverse national universities.
The ranking comes after a decade of significant diversification for Andrews University; in recent years, the university was listed as second most diverse in these U.S. News rankings, but a decade ago, the university ranked 13th in the same campus ethnic diversity category.
Adventists in the region offer support and prayers for those affected by the earthquake.
Seventh-day Adventists in Mexico are still reeling from the massive destruction caused by an 8.2-magnitude earthquake, which hit the southern coast of Mexico late on Sep. 7, killing dozens of people, flattening homes and buildings, and leaving thousands homeless.
It has been reported as the strongest quake to hit Mexico in a century. The epicenter was near the states of Chiapas and Oaxaca but felt as far away as Mexico City.
Top church leaders in the affected regions reported four members dead and many more hospitalized.
Adventists open several displays to highlight Creation Sabbath this October.
In preparation for Creation Sabbath on October 28, 2017, the Geoscience Research Institute (GRI) is creating a series of scientifically accurate and faith building displays. The exhibit will be opened during this year's Autumn Council, an annual meeting of the General Conference executive committee, held from October 5-11 at the world headquarters of the Seventh-day Adventist Church in the US state of Maryland.
 "The displays will feature physical evidence pointing to design in nature and catastrophe in the rock record," says Jim Gibson, director of GRI. "The Scriptures provide a cogent explanation for this evidence. These displays are a testimony to both the Church's allegiance to the biblical creation and to the scientific study of origins."
Summit aimed to share information on how to recognize and prevent abuse in the Church.
On Sept. 11 and 12, 2017, the Seventh-day Adventist Church in North America live streamed the enditnow Pastor's Summit on Abuse from the Spencerville Seventh-day Adventist Church in Maryland. Pastors and church leaders from across the region, in person and online, attended the first-of-its-kind event, which was dedicated to sharing information on how to recognize and prevent abuse at church events and in the lives of church members. Presenters also shared legal definitions of abuse and what church leaders should do in reporting cases.
Event improves youth's skills and prepares them to be missionaries.
In 2011, a group of young students from the River Plate Adventist University, located in Entre Ríos, Argentina, had a dream to organize an international event that would gather young people together who wanted to be missionaries and world leaders of the Seventh-day Adventist Church. 
The main purpose of this event was to motivate and train the participants to fulfill the Great Commission that Christ left us in the Bible: to preach the gospel to the ends of the Earth. This dream came true in the first edition of "I Will Go", which was held that same year. On Wednesday, September 13, the third edition of the International Conference of Public Campus Ministries, "I Will Go", began in the institution that started the event.
The Adventist Development and Relief Agency lends aid throughout the division.
Nearly a week after Hurricane Irma swept through dozens of islands in the Caribbean on Sep. 6 and 7, killing more than a dozen people and flattening buildings and homes, the Seventh-day Adventist Church is still trying to account for all of its members. No fatalities among church members have been reported yet.
Church leaders expressed that it was an honor and privilege for me to work together with these volunteers from the different regions.
Recently a team of 45 volunteers from Madrid and Zaragoza, Spain spent a week helping Romania's Adventist Development Rehabilitation and Help Agency (ADRA Romania) with projects in rural communities of Bacău County, Moldova. The group provided masonry and interior finishing work on several houses, organized two summer schools, aided the elderly by cleaning and sanitizing their homes, and distributed food and clothing to needy families.
Deaf people have much to offer to our church if only given an opportunity
The 2nd International Adventist training course for sign language interpreters of the Seventh-day Adventist Inter-European Region (EUD) was held in Lisbon, Portugal, from September 1-3, 2017. About 30 participants coming from different European countries, Mexico and the United States, attended the meeting.
Among the presenters was Larry Evans, coordinator for Adventist Deaf Ministry International; Taida Rivero and Bastian Bak, both children of deaf parents and involved in this ministry; Debora Infante, physical therapist; Isabel Morais, psychologist; and Elsa Cozzi, director of Children's Ministries for the Inter-European region.
Listeners enjoy the programs practical teaching of Bible truths and sharing God with those around the world.
In Burundi, the Adventist radio program IJWI RY'INZAMBA Y'IHEREZO, or the Voice of Final Trumpet, that airs on the national radio station has gone viral through the phone app WhatsApp. It is especially popular among people who understand the Kirundi language. 
The program, hosted by the Seventh-day Adventist Church in Burundi through its communication department, airs once a week on Sabbath and has gained an international appeal from radio listeners around the world.  
ACS DR also assists in Texas disaster assessment and cleanup after Hurricane Harvey.
During the past week, Adventist Community Services Disaster Response (ACS DR) volunteers throughout the Northwest have been torn between ongoing storm devastation needs far to the east and the potential of wildfire recovery efforts close to home. 

At this point, the loss of primary residences to forest fires around the Northwest has been minimal, so warehouse management, the customary strong point of ACS DR experience, has not been a current need.
The president of the Italian Union of the Seventh-day Adventist Church expressed condolences in a statement addressed to victims and residents.
Rescue and relief efforts continue for the afflicted population of Livorno Italy, three days after a flood hit the region. There were seven victims from the Sunday flood of September 10 that resulted in 15 inches, or 400 millimeters, of rain in 4 hours on the coastal city of Tuscany, causing sudden flooding of rivers and streams.

Stefano Paris, the president of the Seventh-day Adventist Church in Italy expressed condolences in a statement addressed to families of victims and residents.
Leaders applaud local mission for innovation in radio evangelism.
Adventist World Radio (AWR) continues to support radio projects in the Uganda Union and set up new projects in unentered parts of the country. Radio evangelism has been a significant factor in the recent membership growth in the nation. In fact, radio ministry in Uganda played a huge role in the record-breaking baptism of almost 50,000 during Total Member Involvement (TMI) campaigns.
Ray Allen director of AWR Global Training, recently visited the area and applauded the Uganda Union for its innovation in radio evangelism after conducting a site survey of all four Ugandan radio stations: Prime Radio, Light FM, Ebenezer and Maranatha.
President Mugufuli was impressed by message and the contributions of Adventists in the nation.
John Pombe Magufuli, the president of the Republic of Tanzania, recently attended a special Sabbath worship service celebrating the construction of the new Magomeni Adventist church, the first established in Dar es Salaam, Tanzania. Church leaders Joseph Mngwabi, president of the East-Central Tanzania Conference and Herbert Nziku, president of the South-East Tanzania Conference, also attended the ceremony.
Boniface Joseph overcomes a difficult life to share his love for Jesus.
Among the preachers who led evangelistic meetings resulting in 117,000 baptisms in Tanzania and Uganda this summer is a 13-year-old boy named Boniface Joseph.
Boniface, baptized when he was 11, preached every evening for two weeks in a church in the north Tanzanian city of Arusha. 
Boniface, whose short life has been filled with poverty and uncertainty, is eager to become a Seventh-day Adventist pastor one day.
Among them are 42 deaf people baptized in Burundi last Sabbath.
Forty-two deaf people were baptized last Sabbath in Burundi as Seventh-day Adventist efforts to proclaim Jesus' soon return to those with special needs gain steam across Africa.
A weeklong camp meeting attended by more than 100 deaf people culminated with the 42 baptisms on Sept. 2, said Paul Muasya, special needs ministries coordinator for the Adventist Church's East-Central Africa Division, whose territory includes Burundi.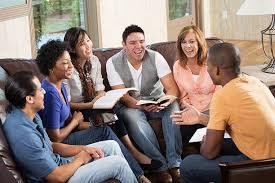 Small Groups Survey
The Rio Rancho SDA Church has as one of it goals to establish Small Groups as a ministry to its members and friends.  In order to gain an understanding of what kinds of groups would be most desired, a survey has been prepared.  We ask you to complete this survey.  Click here.